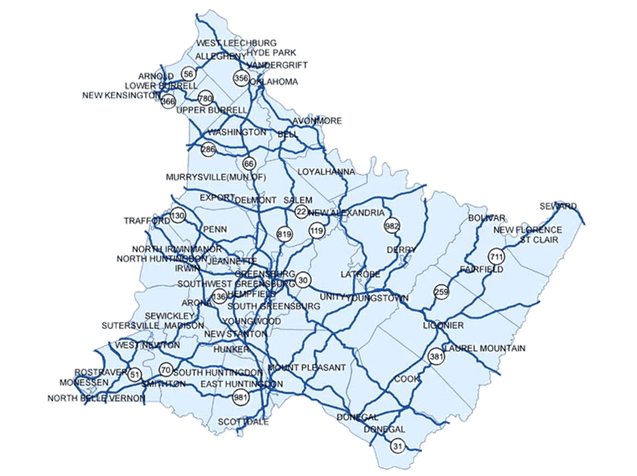 From the picturesque rolling hills of our rural areas to the excitement bustling around our livable downtown communities, we cover every nook and cranny of Westmoreland County. Representing roughly 1,000 businesses from Leechburg to Donegal, the Westmoreland County Chamber enjoys a heralded reputation as the largest, most active, and influential chamber of commerce in Westmoreland County and as one of the most vital chambers in all of Southwestern Pennsylvania.
Westmoreland County was founded on February 26, 1773 and was the first county in the colony of Pennsylvania located west of the Allegheny Mountains. It was the eleventh and last county established under the Penn proprietary government, and played an essential role in bringing civilization and English law to the area. Initial proposals suggested Pittsburgh as the location for the county seat, however, the final decision resulted in Hanna's Town holding the government seat for the county. On April 6, 1773 court was held for the first time in this part of the region.
Hanna's Town grew significantly over the next 10 years and contributed dramatically to the civilization of the region. On July 13, 1792 the town was attacked and burned down by a raiding party of Indians and their British allies. Despite efforts to rebuild, Hanna's Town was never able to recover from the horrific attack. In 1786, a decision was made to move the county seat to the nearby town of Greensburg. The new courthouse was a log cabin constructed in the same location as the current courthouse.
Historic Hanna's Town, as it's now known, is among the most unique and important archeological sites in Westmoreland County. It is administered by the Westmoreland County Historical Society and Westmoreland County Parks and Recreation. The Westmoreland County Historical Society is home to over one million artifacts from the Hanna's Town archaeological site, and makes history come alive through educational lectures, special events and activities, and tours of historical sites.
​
Westmoreland County played an important role in the nation's growth as the country moved away from agriculture and into the industrial age. During the Industrial Revolution, Westmoreland County was a major supplier of coke for the steel and glass industries. Due to the abundance of natural resources in the area, a number of other manufacturing companies emerged. New Kensington was a key location for aluminum, Monessen led the county in steel and tin plate production, while Jeannette, Mt. Pleasant, Greensburg and Arnold were key players in the glass industry.
Westmoreland County has had no trouble keeping up with the pace of today's world. Today the county is thriving with the development of new industrial parks, steady growth of small businesses, a high tourism rate, some of the best medical facilities in the region, a number of colleges and universities, and light manufacturing.