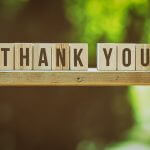 lindsay@westmorelandchamber.com
Unlocking Reciprocity: How Gratitude Transforms Workplace Culture
Where does gratitude fit in the workplace? If you ask Benjamin Laker, a leadership professor at the Henley Business School, he will tell you that organizations that lead with gratitude foster a very special brand of thankfulness—reciprocity.
In an article written for Forbes, Laker describes reciprocity as an innate aspect of human nature. Rather than a 'sense of obligation or indebtedness,' reciprocity is a 'mutual recognition that promotes a continuous cycle of goodwill. Laker argues that leaders who understand the reciprocity principle tap into the rewards of human behavior and cultivate a work environment that fosters team cohesion, collaboration, and a deep sense of trust. Read on to learn more about the benefits of reciprocity and how to use this principle to better your organization.
The Reciprocity Upside
Creating an awesome workplace culture and meeting core objectives are big reasons to practice reciprocity. But that's not why it works. Practicing reciprocity actually improves well-being. Studies show that generosity and reciprocity lead to people reporting happier, healthier and more creative and resilient lives. And these holistic benefits carry over into the work environment, where workers demonstrate higher levels of engagement, motivation, and satisfaction. Plus, leaders who practice reciprocity are considered more likable by their teams, which deepens trust and respect. Bottom line: considering employees needs and taking action to show you care creates a positive boomerang effect that benefits everyone.
Warning: It Only Works When It's Real
Laker reminds organizations that in order for reciprocity to be effective, it has to be authentic, balanced, and thoughtful. Leaders should be mindful when using gratitude to motivate teams. Below is a summary of Laker's top reminders.
Genuine Reciprocity: Successful business interactions go beyond mere mechanical transactions. They are built on sincere acts of generosity and support. When your actions are perceived as disingenuous it can do more harm than good, making your goodwill gestures seem manipulative instead of heartfelt.
Strategic Balance: Maintaining reciprocal equilibrium is crucial. Constantly offering without any expectations can leave leaders feeling overused and depleted. Striking the right balance requires emotional intelligence and understanding one's own motivations and the team's needs.
Proactive Support: Anticipating the needs of others is one of the most effective ways to foster reciprocity. This foresight shows team members that their leader is in sync with them and genuinely invested in their success and well-being.
3 Practical Ways to Foster Reciprocity at Work
Reciprocity takes many forms in the workplace. Here are three simple ways to integrate gratitude into the workday.
· Celebrate Servant Leaders: Recognizing leaders with a 'serve first' mindset can elevate reciprocity as a value in your organization. Special call outs at team meetings or public shares on social media go a long way in celebrating and attracting the kind of people you want representing your business or organization.
· Build a culture of gratitude. Show appreciation for your employee's hard work and dedication. People naturally feel happier when they're acknowledged and happiness boosts motivation. Appreciation begins with the big stuff such as employee benefits and flexible work hours but also includes thoughtful tokens of support such as gifts for special life events, like birthdays, marriages, children, or loss.
· Skill Development Opportunities: By providing employees with opportunities for professional growth – such as workshops, training courses, or seminars – managers can stimulate a reciprocal response. Employees, appreciative of these development opportunities, may be motivated to apply these newly-acquired skills to benefit the organization.
Nurturing a culture of gratitude in the workplace ultimately creates a powerful ecosystem of mutual appreciation and continuous goodwill. Grounded in our human nature, this approach empowers leaders to cultivate team cohesion, collaboration, and trust. But it doesn't stop there. Reciprocity at work unlocks a cascade of holistic benefits, including elevated well-being, creativity, resilience, and genuine employee satisfaction. And remember: authentic reciprocity is key – when you make sure your efforts are heartfelt, balanced, and thoughtful, your employees will thank you.