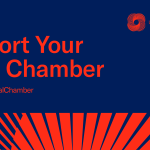 lindsay@westmorelandchamber.com
National Support Your Local Chamber Day
Each year on the third Wednesday in October, we celebrate National Support Your Local Chamber of Commerce Day and thank local chambers across the country for all they do to help entrepreneurs and businesses of all sizes thrive.
Everyday the Westmoreland County Chamber of Commerce proudly helps businesses connect with other members, market themselves, and protect their business through advocacy. When our local businesses thrive, so do our local economies. It is our desire to grow Westmoreland County both quantitatively in population/business growth and qualitatively in economics and standard of living.  We truly believe that our county is a wonderful place to live, work, and play.
There are over 4,000 chambers across the country that are similar in goals. We may have a small team of five staff members, but we are MIGHTY!  We have an amazing 1,013 members to date and we are continually reviewing and addressing the needs of our members.
We appreciate your support in our efforts. If you are looking for additional ways to get involved and support your chamber here are a five suggestions:
*Host an event – Once a member, you HAVE you be involved if you want to make the most out of your membership.  Consider hosting an event such as  a Ribbon Cutting, Wake Up Westmoreland, BASH, or Lunch and Learn. You can find out more about our events in our 2024 Event Guide.
*Offer a discount to members – When you are in the member portal, you may upload a member only discount that will show on the internal site, visible to only active members.  Discounts for a show or coupon for a product are all ways to engage with other members and brand yourself within the chamber.
*Invite members to volunteer together – Teams that volunteer together, stay together!  Volunteering together is a great way to network and build rapport with other chamber members. We are open to ideas and suggestions on ways we can all work together!
*Sponsor an event—Each chamber led event runs because of generous sponsorships.  This is a great way to market your business. (See the October 11th blog post) Most event sponsorships include tickets to the event and flexible advertising credit.  To make 2024 even easier for planning purposes, we have created a 2024 Sponsorship Guide.
*Post on Social Media – If you are at an event tag us in your social media post and like our page (@westmorelandchamber).  This will allow us to tag you in future posts as well, giving you more free PR.
These are all low cost, easy options for supporting your chamber while enhancing your own business! Let's work together in 2024!