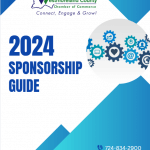 lindsay@westmorelandchamber.com
Making the Most of Sponsorships
Sponsoring an event typically involves trading something of value, usually a monetary contribution, in exchange for benefits such as advertising opportunities. It is a great way to showcase your business, create brand awareness, and market effectively.
Follow these six tips for choosing the working the right sponsorship.
1. Plan your budget—Make sponsorships a line item in your marketing budget to ensure you stay on track and use your marketing dollars wisely. If you plan ahead, it will be easier to pick and choose which opportunities are best for you and your business needs.
2. Choose the right target market—If you are spending money, you'll want to make sure it is being used to target the correct market.  You will want an ideal captive audience so choose to sponsor an event that speaks to your target market.
3. Hone in on your passions and interests—Sponsor an event and/or initiative that is near to your heart or that you feel strongly about. People will be able to sense your sincerity to the cause or organization.
4. Practice your elevator pitch—This is an opportunity to tell your story through sponsorship benefits such as advertising or the ability to speak to a large crowd. You may only have a minute or two to speak, so make each second count with a well planned speech.
5. Capitalize on the publicity —If the organization you sponsored is creating content and sharing on social media, make sure you share their post or tag yourself in the additional PR.
6. Communicate—Take the time to introduce yourself as the event sponsor. If you are sponsoring an in-person event, this is your time to network and being named the event sponsor is a great way to break the ice.
The Westmoreland Chamber of Commerce is able to plan a multitude of events because of our members that partake in sponsorship opportunities. We offer a variety of sponsorships that allow various admission benefits as well as advertising credit to be used however YOU SEE FIT! We know that every business is different, which is why we now offer flexible benefit plans with sponsorship levels that can fit a variety of budgets.
Let's plan your advertising and marketing needs together...We are excited to share with you our 2024 Sponsorship Guide so that you can plan ahead and capitalize on the sponsorship benefits for our many signature events.