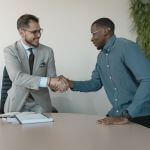 lindsay@westmorelandchamber.com
Your Guide to Navigating Job Fairs
Participating in job fairs organized or affiliated with Westmoreland County Chamber of Commerce and its members can indeed offer several advantages in today's competitive job market. To make the most out of your experience, it's essential to be well-prepared. Here are some essential points to consider:
Research the Companies: Before attending the job fair, research the companies that will be present. Understand their industry, values, mission, and the types of jobs they offer. This will help you tailor your approach and questions during the fair.
Prepare Your Elevator Pitch: Create a brief, compelling introduction about yourself. Include your name, educational background, relevant skills, and career goals. Practice this pitch until you can deliver it confidently in 30 seconds or less.
Dress Professionally: Dress appropriately for the industry you're targeting. In general, business attire is a safe choice. A polished appearance makes a positive impression.
Bring Multiple Copies of Your Resume: Even though you'll be speaking with representatives in person, it's still important to have printed copies of your resume on hand. Some employers may request one or use it as a reference during your conversation.
Prepare Questions: Have a list of thoughtful questions to ask employers. This demonstrates your genuine interest and can help you learn more about the company and the specific job opportunities available.
Practice Your Communication Skills: Job fairs involve a lot of networking and communication. Practice your listening and speaking skills to ensure you can articulate your qualifications clearly and engage in meaningful conversations.
Bring Necessary Documents: Depending on the event, you might need to provide proof of your qualifications or identification. Bring these documents just in case.
Create a Plan: Decide in advance which companies you want to visit and in what order. This will help you manage your time efficiently and ensure you don't miss any key employers.
Be Open-Minded: While it's great to have specific companies in mind, don't limit yourself too much. Be open to exploring opportunities with other organizations that may align with your skills and interests.
Follow Up: After the job fair, send thank-you emails to the representatives you spoke with. Mention key points from your conversation and reiterate your interest in their company.
Practice Professionalism: Always be polite and professional, even if a particular employer may not seem like a perfect fit. You never know when opportunities might arise in the future.
Network: Besides talking to potential employers, don't forget to network with other attendees. You might learn about job openings or gain valuable insights from your peers.
Remember that job fairs provide a unique opportunity to make a strong first impression and stand out from the crowd. Being well-prepared and confident will increase your chances of making meaningful connections and finding job opportunities that align with your career goals.
Our chamber members are always hosting job fairs, so be sure to check the community calendar, the Member Spotlight, and the monthly newsletter for details!
Here are some upcoming fairs including one TODAY!
Today!  September 6th - Achieva Job Fair
Wednesday, September 13th - Independence Health System Job Fair
Wednesday, September 13th - PA CareerLink Awareness Day