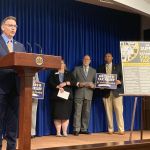 lindsay@westmorelandchamber.com
Remove Barriers to Doing Business in Westmoreland County
Business leaders can face a lot of red tape and hurdles when moving into a new area or expanding current operations. Everything from funding to local ordinances to neighbor goodwill can hamstring even the most basic decisions. Wouldn't it be great if there was a business shaman who could make things easier? Hey, wait! There is. The Chamber exists to remove barriers to doing business in Westmoreland County.
Government Outreach
Perhaps one of the most impactful ways the Chamber serves its members is through advocacy with elected officials. By raising awareness of how local, state, and federal decisions can impact businesses, the Chamber works to support the best interests of local organizations.
Our members want to operate in an environment that allows their businesses to grow and thrive.
That's why we've lobbied at the state level for issues like improving the business tax structure and the permitting and professional licensing processes. At the federal level, we've lent our voice via the U.S. Chamber of Commerce on decisions surrounding balanced labor and employment laws and creating improved infrastructures.
Our president and CEO Dan DeBone also makes a concerted effort to keep our members up to date on the latest federal and state levels legislature. He sends out near daily updates via email and posts detailed explanations on developments on our website. Dan also explains the stance the Chamber has taken and steps to ensure our voices are heard and our interests are considered during voting.
Networking and Connections
Anyone in business long enough knows that sometimes it's who you know that can make all the difference. If you're new to an area, entering a new market, or launching a new product, your professional network helps you.
More than just ribbon cuttings and BASH events, the Chamber offers you access to a network of solid business connections. We offer programs and workforce development partnerships to keep you connected with the right folks.
You can also reach out to someone in the member directory at any time for collaboration, ask advice, or just to shoot the -ish. Building bonds with the other business owners and leaders in your neighborhood can open doors you'd never even thought of.
Here to Help
If you're stuck on who might be able to help you, reach out to our office staff! We can offer you some suggestions of great contacts. Sometimes we may know someone in another entity looking for your exact product or service. We live for making these connections between our members!
We can also connect you to other organizations or point you to resources that can help address your needs. Having someone to introduce you to the right people and material makes it easier to establish a working relationship.
All this eases your journey to accomplishing your business goals. If you'd like to see how the Chamber can help you with YOUR business goals, reach out today! Stop by our office at 241 Tollgate Hill Road during normal business hours, call us at 724-834-2900l, or complete our online form.