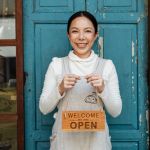 lindsay@westmorelandchamber.com
"Shop small." "Small Business Saturday." We hear all kinds of chatter about the benefits of running and supporting small businesses. Plus we hear people say small businesses drive our economy. But what does that term really mean and how do these organizations fit into their surrounding communities?
A Numbers Game
The United States Census Bureau defines a small business two ways: number of employees or the amount of annual revenue.
This aligns with the Small Business Association (SBA's) thresholds. It defines small businesses by revenue ($1 million to over $40 million) and by employment (100 to over 1,500 employees).
However, most small businesses have fewer than 500 employees.
Small But Mighty
When people say that small businesses drive the American economy, it's not hyperbole. Small businesses account for 44% of America's gross domestic product and 66% of jobs created each year.
Did you know small businesses in every industry make up 99.9% of all businesses in the United States? Of these, 80% of these small businesses have no employees. Call them one-person shops, solopreneurs, or side hustlers, small business owners are everywhere.
Yet the remaining 20% of small businesses employ nearly half of all U.S. workers. Plus, small businesses serve as the pillars of their community. They provide local jobs, give charitable donations to local causes, and their tax dollars support local infrastructure.
Widespread Impact
Small businesses have a huge impact on their communities. Apart from local charitable giving, the U.S. Chamber of Commerce found most small businesses prioritize giving back to their local communities.
In conjunction with MetLife, the U.S. Chamber Small Business Index survey results showed:
70% have encouraged employees to shop at local small businesses
66% have donated to local charities over the past year
64% say they sponsored or donated goods/services to local events
56% say they offered discounts to certain groups within the community, like teachers or veterans
Pennsylvania Small Businesses
Pennsylvania alone has more than one million small businesses, employing 2.5 million people. The largest income industries in the Commonwealth include agriculture, manufacturing, and mining.
Industries with the greatest numbers of employees from small businesses were healthcare and hospitality services. Healthcare small businesses employ more than 412,000 people while accommodation/food services have more than 306,000 workers.
Want to connect and do business with local small businesses? Check out our Business Directory of Chamber members.