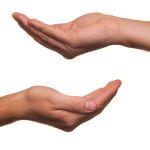 lindsay@westmorelandchamber.com
How to Do Good While Doing Well
It feels good to do something nice for others, right? Especially when we have a lot of contact with the people benefitting from our good deeds. Small businesses have a longstanding tradition of charitable giving within their communities. In fact, small businesses give 250% more than larger businesses, and mostly to local nonprofits and community causes. So what's the best way to join this party? Learn how to do good while doing well.
Pick a Cause
It's really hard to resist a super cute Cub Scout selling popcorn or a tee ball team asking for sponsorship. There's definitely no shortage of need.
Experts recommend choosing your causes thoughtfully and making sure they align with your mission. For example, if you're a children's clothing retailer, your customer base would likely respond positively to you supporting a pediatric charity.
If you've got a set amount for giving, planning ahead helps you and the cause you select to budget accordingly.
Build Your Brand While Building Good Will
It's no secret that charitable giving looks good. But fundamentally, it makes good sense for small businesses to support the communities who in turn support them. People choose small businesses over large-scale corporations because of the personal touch. Charitable giving demonstrates a commitment to the community and that your bottom line is more than just profits.
Having your name attached to a cause or event builds brand reputation because people like supporting businesses that support others. Philanthropy can also give you an opportunity to build relationships with other businesses supporting causes in your area.
Reminder: Because writing off charitable donations can get complicated, make sure you consult a tax professional.
Make It Ongoing
Don't just donate and dash. Instead, pick a cause where your business can build a lasting partnership.
Talk with the organization about how you can support events or engagements throughout the year instead of one time. Consider inviting the charity team to your business to speak with employees and bring the cause to life.
By talking with recipients about ways you can help them, you promote one another.
Think Outside the Checkbook
Giving back does not have to mean direct financial support. Often, nonprofits need volunteers as much as they need funds. You can offer your employees a set number of paid hours per month to volunteer as a way to help.
Did you know the Chamber will have a volunteer opportunities bank coming soon? Chamber members can find opportunities to give back that align with their values and fill local non-profit needs.
Studies show this helps to improve employee leadership, boosts morale, and strengthens camaraderie with colleagues. Millennials, in particular, are attracted to companies known for supporting good causes.
You'll find many benefits to being a do-gooder!
Do Take Caution
Unfortunately, a lot of scammers prey on people's goodwill. They have very sophisticated tactics that imitate causes both big and small to steal your generosity.
Follow these tips to make sure your donation goes to a legit organization:
Double-check an email sender's address and website
Do an internet search for the organization to compare the URL to what you received
Phishing emails come when you're the busiest., so take your time with every giving email
Beware any request for rushed funds. This is the biggest red flag.
Finding ways to give back to your community helps both giver and recipient. The Chamber offers a variety of ways to find meaningful charities in your own backyard. Check out the member directory on our website and look for the new volunteer opportunities section coming soon.